AquaConSoil in transition from international conference to international platform
AquaConsoil is a leading international conference in the field of soil quality and water management. After a period of many years, it is returning to the Netherlands. First online and then as a physical conference in Rotterdam next year. In addition to the importance of knowledge exchange, it is also an opportunity for policy makers, researchers and users to highlight Dutch understanding and expertise.
Sophie Moinier (Deltares) and Willem Hendriks (NL-ingenieurs Soil and Subsurface Expert Network) on behalf of the Organising Committee:
"Never waste a good crisis"
The COVID-19 pandemic is having an enormous impact. And the world of academic knowledge exchanges is no exception. Conferences, workshops, seminars and so on were mostly postponed at first, until it became clear that COVID-19 would be casting a very long shadow indeed: leading international conferences switched en masse to online versions. AquaConSoil is seizing the momentum to transform itself and not just to organise an online meeting. It wants to establish an international platform for initiatives and to exchange knowledge, practical experience and ideas. We also want to make the most of the advantages of an online conference: we can cast our net much more widely and get young professionals in particular to join in.
AquaConSoil from a historical perspective
The first conference was organised in 1985 in Utrecht and it has taken place since in several European cities. In the early decades, it was known as ConSoil and the focus was on contaminated soils. The scope has widened in the last decade. Since Barcelona 2013, the conference has been known as AquaConSoil to emphasise the systemic approach to the sustainable use and management of soil, water and sediment. In addition to pollution, the programme also includes more and more topics like land stewardship, the link to social challenges and goals (such as the United Nations Sustainable Development Goals), the circular economy, digital opportunities and sustainable business models. AquaConSoil is also welcoming more and more visitors from outside Europe.
The move to a platform
The challenges in the world are immense: food supplies, a healthy environment, climate and energy issues and the loss of biodiversity. Fortunately, people are eager to tackle these challenges and the need to do that is increasingly prominent on the political agenda. The European Green Deal is a case in point. The soil and water system plays a prominent role when it comes to addressing all these challenges.
It is precisely by working together in the chain (in other words, government, science and practice) that we can make progress: establishing connections between networks, and organising international exchanges of knowledge and experience. With this in mind, AquaConSoil is looking for a new identity. We want to make the move to a platform where people can meet on a regular basis and launch initiatives. We are targeting parties and people from different countries who will work together in different disciplines on the basis of shared interests and ambitions. We are launching this transition with a combined AquaConSoil 2021+2022.
What are our plans?
We are going to organise two conferences. The first will take place from 14 to 18 June 2021 and it will be online. So it will be easily accessible for a very large, worldwide audience. The second is now planned for mid-2022 and it will – if the COVID-19 situation allows – be a physical conference (possibly with some online elements).
In the run-up to the conference in June 2021, a number of activities will be arranged such as webinars with keynote speakers and specific initiatives. This webinar series kicked off with an introduction to the new strategy on 19 January. Huub Rijnaarts, a professor at Wageningen University and Research Centre and the chair of AquaConSoil, gave an introduction which was followed by a discussion between Annemieke Nijhof (the managing director of Deltares) and Sophie Moinier (the AquaConSoil coordinator).
The common theme for the online and the physical conference is 'connections': between people, disciplines, methods, and practical challenges. The meetings provide the traditional opportunities for substantive - and above all scientifically oriented - presentations (with English as the shared language). They are structured on the basis of five leading themes:
Vital and resilient soil-sediment-water systems
Smart solutions for urbanising areas of the world
Smart tools to connect people, planet, profit
Integrated management of contaminated land
Sustainable remediation technologies in the context of the European green deal and the energy transition
Suggestions relating to content are given for each theme. More detailed information about the themes can be found on the website www.aquaconsoil.com.
In addition, there is a call for free initiatives relating to these themes. The aim is to establish alliances based on these themes so that there will be regular contacts during the year, with results potentially being presented at AquaSoil 2022. In this way, people will work actively on the planned platform.
Obviously, we will also be using AquaConSoil to turn the spotlight on the Netherlands. This is an excellent opportunity to show how we use the natural system to solve problems and capitalise on opportunities. In that respect, AquaConSoil could also boost networks (including knowledge networks) in the Netherlands.
Call for action
Our message for you is simple: join us! Although the closing date for the submission of abstracts has passed, there are still opportunities to submit initiatives. For more information, registration and contributions to the programme: see the website www.aquaconsoil.com
Streamers:
Connecting people, disciplines, methods, and practical challenges
The Netherlands is pioneering the use of the natural system to tackle challenges facing society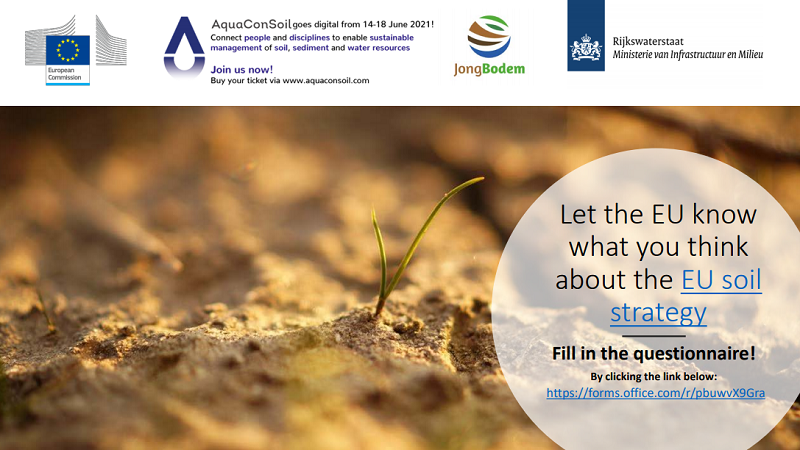 Invitation questionnaire EU soil strategy
To all the young soil professionals joining AquaConSoil: we would like your input!
Last year, the EU commission presented the EU soil strategy with six goals to conserve or achieve healthy soils. These goals affect the condition of future soils, soils that we will have to live with the longest. Therefore, we want to write an alternative EU strategy, written by young soil professionals.
We can't do it without you. So we created a short questionnaire where we ask for your input on the EU soil strategy. Your input will deliver the input and jumpstart a discussion on our session on May 27th.
Be a part of the discussion! Fill in the questionnaire and join the session of JongBodem and Rijkswaterstaat on May 27th at AquaConSoil!
To all the young soil professionals joining AquaConSoil: we would like your input!
Related articles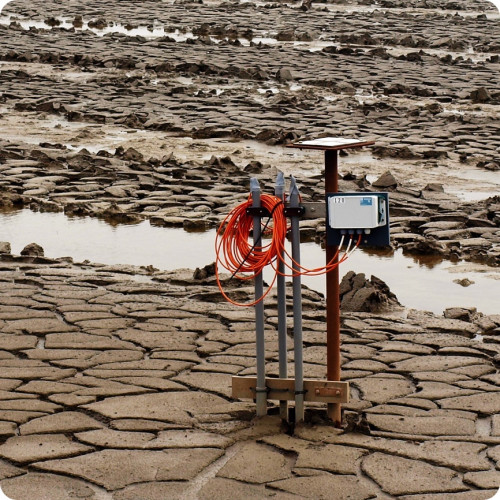 Images sometimes speaks louder then word! During the AquaConSoil 2021 festival a digital photo exhibition will be organized. We ask all participants to upload one...